Legalization of Myrijuana in the USA opens up stunning opportunities for enrichment
For investors, in addition to cannabis, another very promising market is developing in the USA. In 2018, cannabis containing less than 0.3% tetrahydrocannabinol was legalized throughout the country.

This gave a green light to the development of the market for goods based on another substance obtained from this plant, cannabidiol (CBD). It has analgesic, antispasmodic, restorative and soothing effect. On its basis, drugs, drinks, cosmetics, food are made. According to research firm Brightfield Group, the CBD products market should grow from $ 591 million in 2018 to $ 22 billion by 2022.
Image: cbdoil.org

In most countries of the world, CBD, like tetrahydrocannabinol, refers to narcotic substances.

The legalization of CBD at the federal level in the United States was a breakthrough. Cannabis products are statewide. You can not export goods beyond its limits. In the case of CBD-based products, you can distribute from a single center and export goods.

Arrest

Two businessmen of Soviet origin Lev Parnassus and Igor Fruman were detained in October when they were about to board a flight from the United States with one-way tickets. They were arrested on suspicion of crimes, including violation of campaign finance laws, rferl.org reports.

The Federal Indictment promulgated the day after their arrest states that Parnassus and Fruman entered into a conspiracy to "transfer funds from foreign sources to candidates for government posts at the federal and state levels." It is also indicated that these donations are funded by a Russian who seeks to obtain licenses for the retail sale of marijuana in several US states.

U.S. citizens Parnassus and Fruman are partners with Rudy Giuliani, the former mayor of New York, who is now the personal lawyer of President Donald Trump and a central figure in the investigation of impeachment, which is mainly focused on interaction with officials in Ukraine.
Image: NBC News / Ukrainian-born Lev Parnas (right) and Rudy Giuliani (left)

According to Troy Dayton, CEO of The Arcview Group, a San Francisco-based research company: "Every decade, a huge new opportunity appears on earth that transforms the world and soars to heaven, and cannabis is such an industry for the current time period."

According to him, the moment that distinguishes the cannabis industry from the boom of Dot.com and other new market opportunities lies in the fact that it is caused not by innovation, but by political changes.

"So it looks more like the fall of the Berlin Wall and the opening of trade with China," said Dayton.

Bribery as a result of fierce competition

Since 2012, eleven U.S. states and Washington, DC have legalized recreational marijuana for millions of people, creating an industry with sales of $ 13 billion this year. Arcview predicts that by 2024 this figure will rise to $ 35 billion.

However, the marijuana industry in the United States is facing the problem of distributing cannabis licenses. It is similar to that used by the governments of the former Soviet republics and satellite countries in the sale of state assets, including licenses for natural resources in the 1990s: the lack of a transparent and fair process.

The United States offers a limited number of licenses for the cultivation, production and sale of products filled with marijuana, creating fierce competition for each of the market participants. Casino executives, lawyers, lobbyists, former officials, and their relatives were among the first license holders in Nevada.

When the state held another auction to sell 64 marijuana retail licenses in 2018, it received 462 applications. In the end, Nevada granted 61 licenses to 17 companies, which led to lawsuits by losing companies reporting "widespread corruption" among officials, including the adoption of kickbacks.

Recent deals have shown the huge profits you can get from licensing in Nevada, especially in Las Vegas, the center for gambling and entertainment, which is the largest city in the state and one of the best tourist destinations in the United States.
Image: nondoc.com

Four cannabis companies in Nevada, which appeared just a few years ago, were bought for between $ 40 and $ 290 million in 2018.

According to the indictment, Ukrainian Parnassus and Belarusian Fruman, together with Andrey Kukushkin, a citizen of Ukraine, and US-born David Correia, "planned to create a business for the production of marijuana" for relaxation ", which will be funded by a" foreign citizen-1 "and needs access to retail marijuana licenses in states including Nevada.

Together with an unknown Russian businessman who is a "foreign citizen-1," four men met in Las Vegas in early September 2018 to discuss the venture, the report said.

Kukushkin and Correia registered the company in Nevada in September 2018, but missed the deadline to apply for some of the 64 proposed licenses.

Kukushkin, a former investment banker at Renaissance Capital, a Moscow-based company that helped pioneer the Russian stock market in the 1990s, has already invested in a California-based cannabis company with Andrei Muravyov, a former president of a Siberian cement company.

Muravyov multiplied the fortune he made in the 2000s by cement, investing in technology. He helped run Silicon Valley based venture capital firm Run Capital.

Corrupt industry

Russians were among the first investors in cannabis markets, such as Colorado, who legalized marijuana for recreational use in 2012 and was one of the first two states to do so, said Chris Walsh, founder of MJBizDaily, a leading industry publication, in an interview with RFE / RL .

Thus, the interest of an unidentified Russian investor in donating $ 1 million to federal and state political committees, as well as financing for the acquisition of licenses, was not unusual.

In August 2019, the FBI expressed concern about corruption in issuing cannabis licenses in the U.S., especially in western states, including Nevada. According to the main law enforcement agency in the United States, licenses cost up to $ 500,000.

The United States offers a limited number of licenses for the cultivation, production and sale of products filled with marijuana, creating fierce competition for each of them.

Bernie Suher, an American pioneer in business in Russia in the 1990s, and now CEO of Tikun Olam USA, a producer of cannabis strains and products, said the marijuana industry is corrupt, like in many other public sectors.

"Some of these states have a limited number of licenses controlled by a small group of bureaucrats or elected politicians, and it is believed that if you get one of these licenses, it is of great value. And this is an ideal structure for promoting corruption schemes and transactions," said Suher, who was one of the first Americans to start a business in post-Soviet Russia and continued to hold key positions in US investment banks.

Donation bribes and kickbacks

Nevada, an independent newspaper, said marijuana companies donated nearly $ 750,000 to the 2018 governorship campaign for Democratic candidate Steve Sisolak, who defeated his Republican rival Adam Laxalt.

For example, one state-owned cannabis owner in Nevada donated $ 60,000 to Sisolak through six companies and another $ 10,000 in his own name to legally circumvent contribution limits.

According to the indictment of Parnassus and three other men, an unknown Russian businessman sent two tranches of $ 500,000 each to a bank account controlled by Fruman shortly before the November 2018 election, "in order to try to gain influence from politicians and candidates"

Foreman made a donation of $ 10,000 to Laxalt, as well as Wes Duncan, a Republican candidate for the post of Attorney General of Nevada.

Kukushkin said in a text message to his partners that they would need a "green light" from Laxalt to be able to participate in the already closed round of cannabis licensing in Nevada.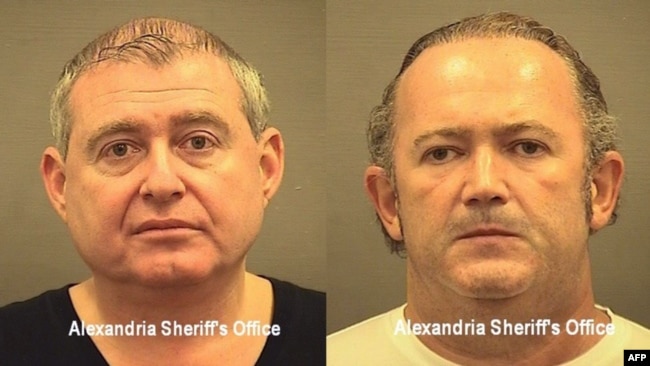 Image: rferl.org / Ukrainian-born Lev Parnas (left) and Belarusian-born Igor Fruman
Sacramento Bee, located in the capital of California, reported that Parnassus and Fruman also donated to several Californian politicians, including leader U.S. House Minority in the USA to Kevin McCarthy, Republican.

Parnassus, Fruman, Correia and Russian-1 continued to meet until the spring of 2019, but the marijuana business did not work out, the indictment says.

Kukushkin continued to hunt for cannabis retail licenses, including in Los Angeles, according to state and consultant requests. Arcview predicts that California will account for one fifth of the US cannabis market by 2024.

Kukushkin is also a business partner of Garib Karapetyan, who is the largest cannabis operator in Sacramento with eight dispensaries, reports The Sacramento Bee.

The FBI is currently investigating whether Sacramento cannabis owners paid bribes to officials.

Mark Galeotti, an analyst on Russian issues with special knowledge of organized crime and corruption, said that criminalized entrepreneurs from the countries of the former Soviet Union "thrive where they can use the clumsy and greedy bureaucracy, and there's a big difference in supply and demand. "

This, he said, refers to the legal marijuana industry in the United States.
Performed by IVC